CUSTOM HAND-CARVED GUNS & ROSES RING DESIGN WITH ELK TOOTH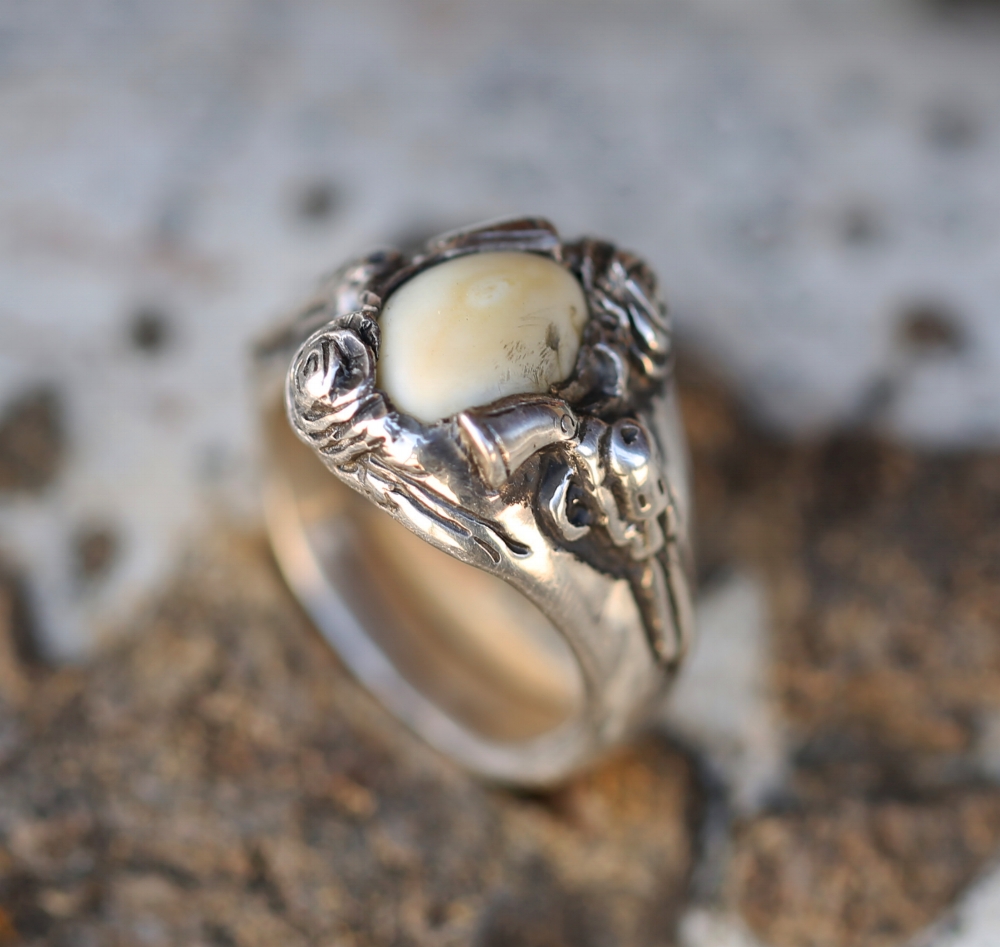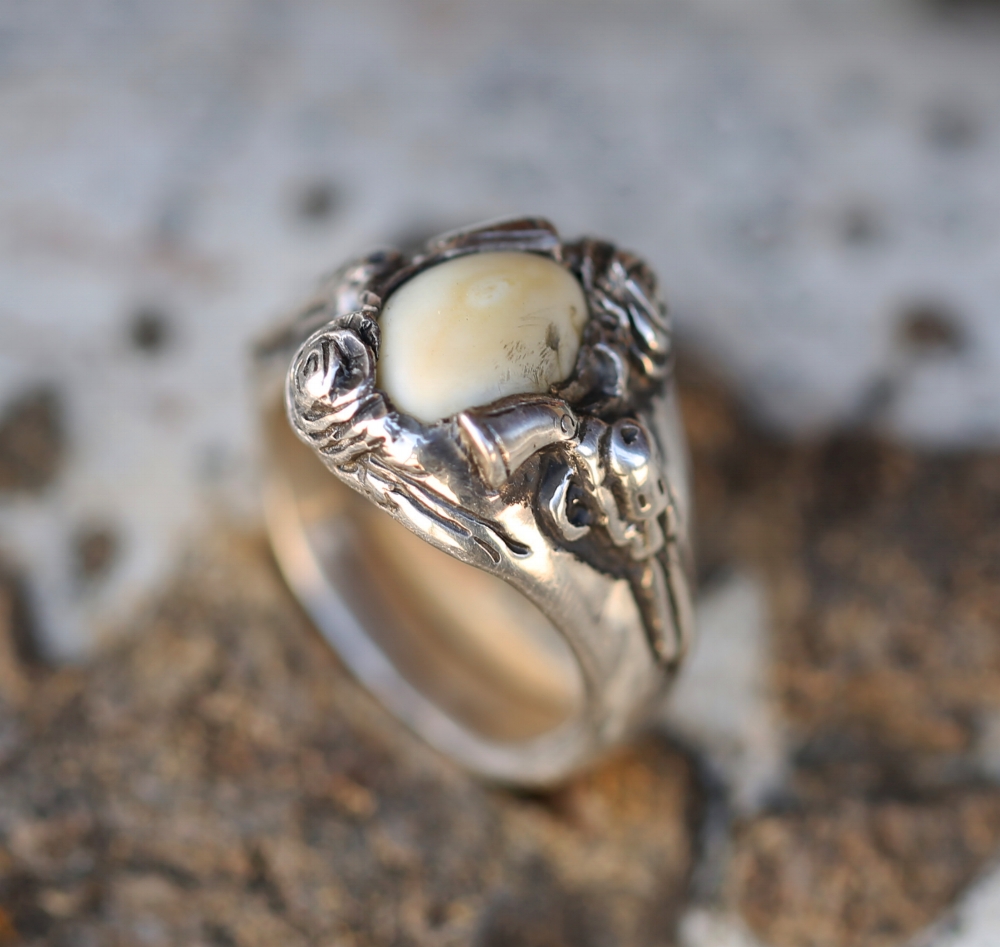 CUSTOM HAND-CARVED GUNS & ROSES RING DESIGN WITH ELK TOOTH
Introducing our new line of Elk Tooth (elk ivory) "Lost Wax Casting" rings!
This ring features a custom hand-carved guns and roses designs with a set elk tooth, but could feature just about anything you can imagine! Additional wood and inlay options available upon request. Each ring is hand-carved by our in-house artist Kevin Fredrickson, and set using an ethically collected elk tooth.
Available in: SILVER & 10K GOLD
We love taking on custom orders. If you have your own idea for a design reach out to us in the contact section of the website, we want to make something as unique and special as the love you have found.
Handmade || Custom || Made to order
View our Passion and Craftsmanship HERE
ADD A CUSTOM ENGRAVING TO YOUR RING BOX HERE!
POLICIES:
OUR LEAD TIME IS 6 WEEKS FROM DATE OF PURCHASE PLUS SHIPPING
OR 8 WEEKS IF YOU ARE ORDERING A RING IN SILVER, BLACK ZIRCONIUM OR GOLD
Because we use natural and unique materials in our rings, variation must be expected. No two rings will look the same, each piece of wood, antler, copper, etc... will have unique patterns, grains, colors, etc..
Started from raw materials, each ring is a multi-day process and is made just for you. To ensure a good fit, we recommend being sized by at least 2 jewelers, using rings that are similar to the width that you plan on ordering from us, NOT the thin key chain ring sizers sometimes used by jewelers. Wider rings will not fit in the same size that thin rings do. The rings cannot be resized without being completely remade. For this reason refunds and remakes can not be given if a ring is ordered in the wrong size, however a discounted remake fee can be made available. If you take the time to try on rings in the width you will be ordering we are confident that the ring we craft you will fit perfectly.
LIFETIME-LIMITED WARRANTY INFORMATION:
We take pride in our craftsmanship and quality, and do everything that we can to make our rings as durable as possible; however, the materials used are natural and thus can be vulnerable to water, chemicals and breakage from impact. For this reason we are offering a lifetime limited warranty, which will give you piece of mind and keep your handcrafted ring protected and looking great for years to come!
**Must be purchased at the time of ring purchase or before receiving your finished ring.
What Is Covered & Included?
2 Free Repairs or Remakes (coverage available for the following issues):
Water or Chemical Damage: Your warranty will cover any remakes or repairs of damage to the natural materials caused by water or chemicals.
Impact, Scratching or Accidental Damage: Your warranty covers all remakes and repairs to natural materials caused by impact, scratching or other accident related abuse.
**We do not offer free coverage or replacement for structural damage to the metal base of your ring, so please try not to drop a transmission on it, keep your fingers safe.
**We do not offer coverage for lost or damaged precious stones.**
&
2 Free Reseal and Re-Polishes: We understand that you love your ring and want to wear it everyday. If it gets worn and scuffed, send it back for a reseal and polish, and we will send it back fresh and clean!
Discounts:
60% OFF Resizing Remakes: Due to the natural material used in your handcrafted ring, resizing your ring actually means rebuilding the ring from scratch. With the purchase of our lifetime-limited warranty, you will receive a 60% discount on your new, resized ring.
20% OFF Remakes Due To Structural Damage: Although we cannot cover against structural damage to the base metal of your ring. We understand accidents happen and will offer 20% off the remake of a new ring.
ADD A CUSTOM ENGRAVING TO YOUR RING!
CUSTOM RING ENGRAVING
Ring engravings are not available for rings that have wood, antler or stone on the inside of the ring. We recommend keeping your engraving between 30-40 characters of text.
For engraving requests involving custom images sent in (or if you request we find an image for you), handwriting, and hand drawings please click HERE.
ADD A CUSTOM ENGRAVING TO YOUR RING BOX BELOW!
CUSTOM ENGRAVED RING BOX
For engraving requests involving custom images sent in (or if you request we find an image for you), handwriting, or hand drawings please click HERE
A wedding ring is a beautiful symbol, customize the handmade box it comes in, in a special and unique way that symbolizes your love! Send us any jpeg image and we will laser engrave it into the top of your box. If you just want something simple like your initials, include those in the comments along with some font direction and we can engrave those into your box.
Please note the heart is just an example and will NOT be included unless specified in the Notes to Seller section at checkout.