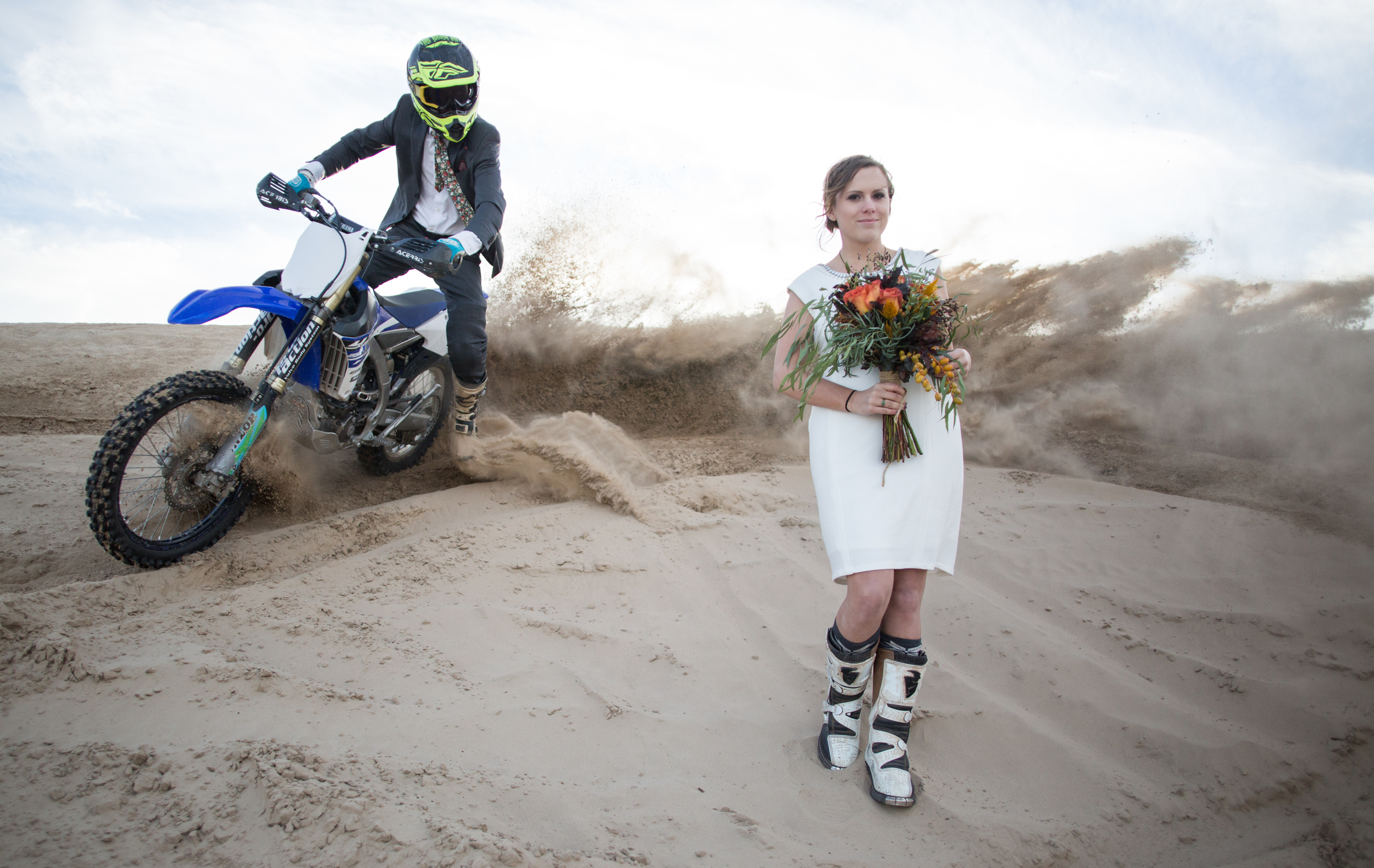 Staghead Designs was born from a passion for creating with our hands, and a need from our clients to have a wedding ring that speaks to who they are, and accurately symbolizes their love. As we discovered who those people were and what they were looking for, we developed the mantra "Wear & Be Wild", because we felt it was a fitting description of the adventurous people who relate to our product. It was this inspiration that helped us develop the following shoot. We know that the ways our clients express their wild side is endless, but one of the ways that the Staghead family cuts loose is by getting out in the Utah desert and riding our dirt bikes!
We have been hoping to get some well dressed people on the sand dunes for quite some time. When we started to see the overwhelming support and excitement from vendors on our first stylized bridal shoot, we knew we had a chance to make this shoot come to life at the same time. We are so grateful to the local vendors and artists for jumping in on this second shoot and allowing us to bring our ideas to life!
If any of you are looking for vendors for a wedding or stylized shoot, we highly recommend each and every person we worked with and will list their info below.
Wedding Rings - Stylist - Staghead Designs - instagram - website
Photography - Miles Mortensen - instagram - youtube
Florist - Stylist - Freckle Farm - instagram - website
Hair - Emma Ribeira - instagram - website
Make-Up - Jessica Craig - instagram
Watch - MVMT - instagram - website
Video - Gray Anderson - instagram - youtube
Tie - Simply Skinny Ties - instagram - website
ATV Transportation - ATV & Jeep Adventure Tours - instagram - website
Jewelry - Good Vibes Jewelry - instagram - website